Press release
Kawasaki Day – Hydrogen ready!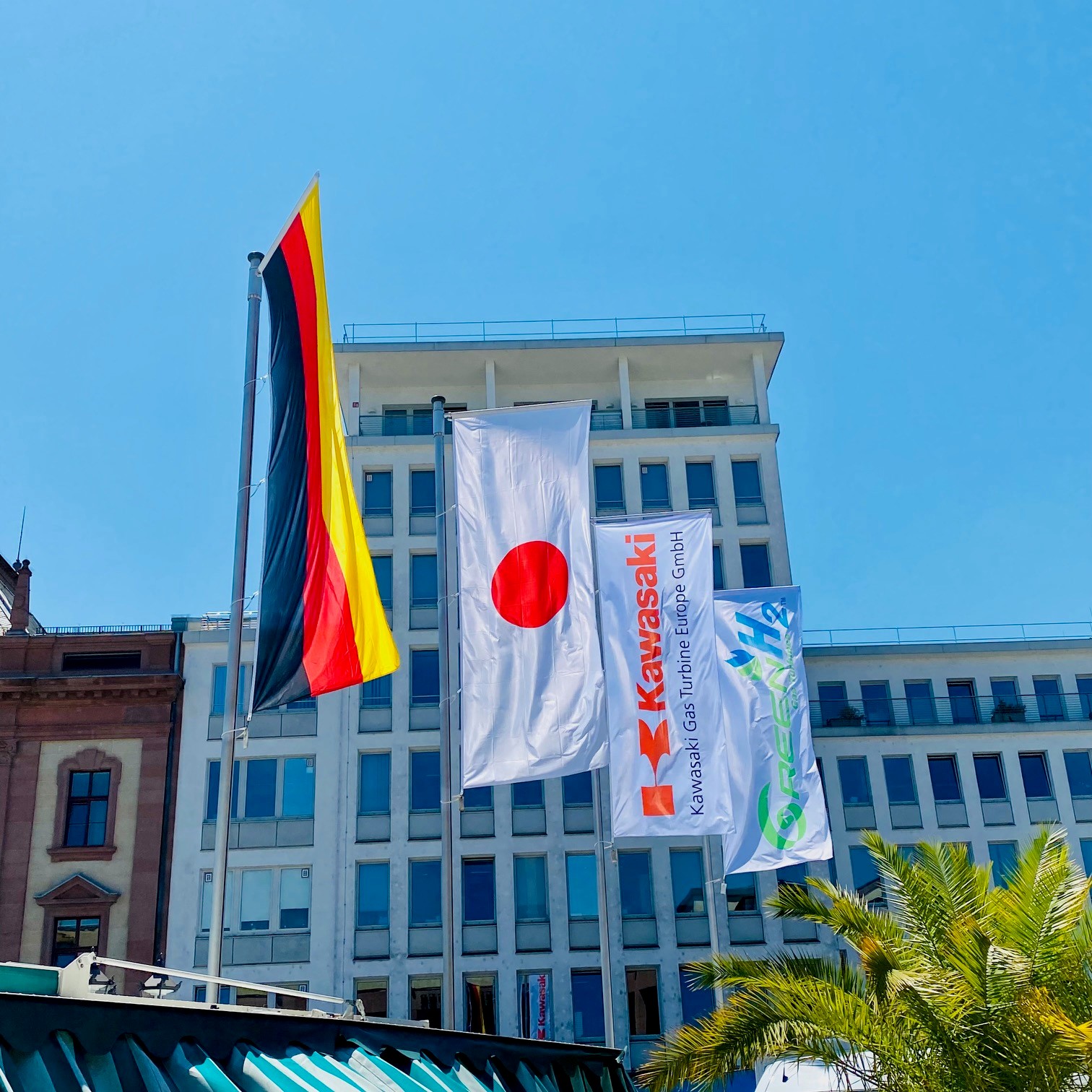 Kawasaki Gas Turbine Europe presents hydrogen-capable solutions for industrial gas turbines at the Kawasaki Day.
Bad Homburg, 16 June 2023 - Kawasaki Gas Turbine Europe, a leading supplier of advanced gas turbine solutions, showcased its state-of-the-art hydrogen-capable technology at the highly anticipated Kawasaki Day at the renowned Kurhaus Bad Homburg on 13 June.
Forward-Looking Technology
As the global energy landscape rapidly evolves, Kawasaki Heavy Industries, Ltd. and its German subsidiary Kawasaki Gas Turbine Europe continue to lead the way in the development and deployment of sustainable hydrogen-based energy solutions. Kawasaki looks at the entire value chain for hydrogen applications and has developed different technologies for each link in the chain. The value chain ranges from hydrogen production, storage, overland and overseas transportation to the use of hydrogen via gas turbines, gas engines.
During the event, which was fully booked with over 100 participants, industry experts, government representatives and key stakeholders witnessed the presentation of Kawasaki's latest gas turbine models, including hydrogen-capable ones. These represent the future seamless integration of hydrogen into the existing power and heat generation infrastructure.
High-Profile Guest Speakers
In addition to exciting presentations from Kawasaki on which is already possible in the field of hydrogen use, other top-class speakers such as Ms. Meier, senior expert for the energy transition from dena, Dr. Jörg Leicher from the Gas und Wärme-Institut Essen, Mr. Marcus Gailfuß from BHKW-Consult, Mr. Gregor Herklotz from RWE, and Mr. Max Höllmann from Graforce GmbH. They all painted a comprehensive picture of the current hydrogen landscape.
In his guest speech, Mr. Jens Deutschendorf, State Secretary in the Hessian Ministry of Economics, Energy, Transport and Housing and representative of the Hessian state government, emphasised: "Green hydrogen will play a central role in the future climate-friendly energy supply - for example in air traffic and in industrial processes that cannot be directly electrified, but also as a storage medium for wind and solar energy. However, generation capacities and distribution grids still need to be built up, so hydrogen will only gradually replace fossil fuels. Flexible systems like Kawasaki is developing will help us in this transition period."
Mr. Koji Terauchi, Managing Director of Kawasaki Gas Turbine Europe, expressed his enthusiasm for the event: "Kawasaki Day provided us with an exceptional opportunity to showcase our state-of-the-art hydrogen-capable solutions to a high-profile audience. We are proud to be at the forefront of the energy transition and remain committed to providing sustainable and reliable power and heat generation solutions."

Conclusion: Kawasaki Day served as a platform to clearly underline the company's commitment to promoting the use of hydrogen as a clean, efficient and forward-looking energy source.
Press release Kawasaki Day - Hydrogen ready


Contact:
Kawasaki Gas Turbine Europe GmbH
Dr. Ing. Nurettin Tekin
Nehringstr. 15
61352 Bad Homburg
Germany
Phone: +49-6172-7363-0
info@kge-gmbh.com