COORPORATION MILESTONE! RWE AND KHI!
Details
Pressemitteilung_KHI_Dezember_2021.pdf
Kawasaki and Mercurio
Details
GREAT NEWS:
Kawasaki Heavy Industries, Ltd. acquires Minority Quota of Mercurio S.r.l. Corporate Capital
Kawasaki Gas Turbine Europe GmbH ("KGE") announced today that Kawasaki Heavy Industries, Ltd, KGE's parent company based in Japan and the leader of Kawasaki Group ("Kawasaki"), has acquired a minority quota of the corporate capital of Mercurio s.r.l. ("Mercurio"), an engineering and services company based in Verbania, Italy, engaged in the design, construction, commissioning and maintenance of energy production plants, in particular high-efficiency cogeneration plants, and fiberglass machineries manufacturing and processing to further develop and strengthen their long-term partnership to further expand the both companies' businesses in the energy-efficient solution field in Europe.
Ever since concluding an agreement on business collaboration between KGE and Mercurio in 2016, the partnership between Kawasaki and Mercurio has included marketing, engineering, after-sales support, and maintenance services by Mercurio for Kawasaki gas turbines and gas engines in the Italian market. The partnership has rapidly developed Kawasaki's energy-related business over the years and has been characterized by continuous growth in numbers and mutual trust.
By strengthening their bonds and aligning the strength of Kawasaki's various products, including high-efficiency gas engines and gas turbines as well as hydrogen-fueled gas turbines, with Mercurio's dedicated focus and expertise as an engineering and services company with an entrepreneurial culture, the business and capital alliance between Kawasaki and Mercurio is expected to accelerate growth for both companies in the energy-related industry in the whole Europe.
Furthermore, Kawasaki will continue to pursue reliable energy supplies, environmental load reductions, and efforts toward realizing a low- and zero-carbon-emission society while striving to address a diverse array of market needs precisely.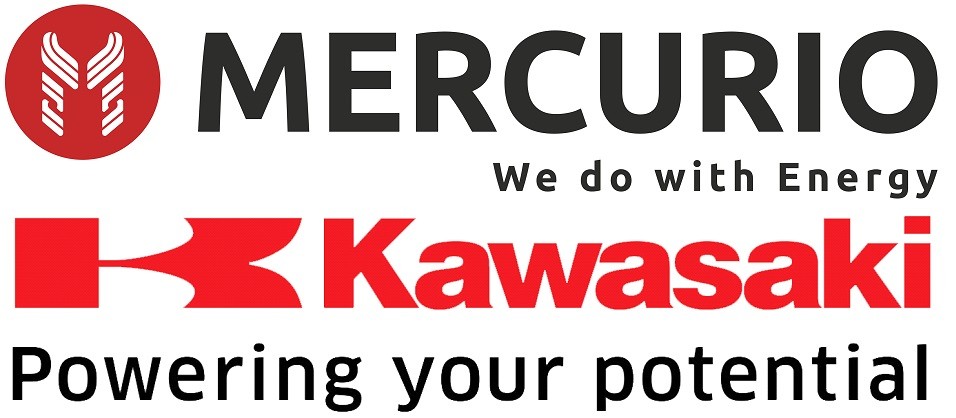 Kawasaki Technical Review No.182
Details
KAWASAKI TECHNICAL REVIEW No.182
Special Issue on Hydrogen Energy Supply Chain
Click on the link below to read the brochure or feel free to downlaod the brochure in our Download area.
KAWASAKI_TECHNICAL_REVIEW_No_182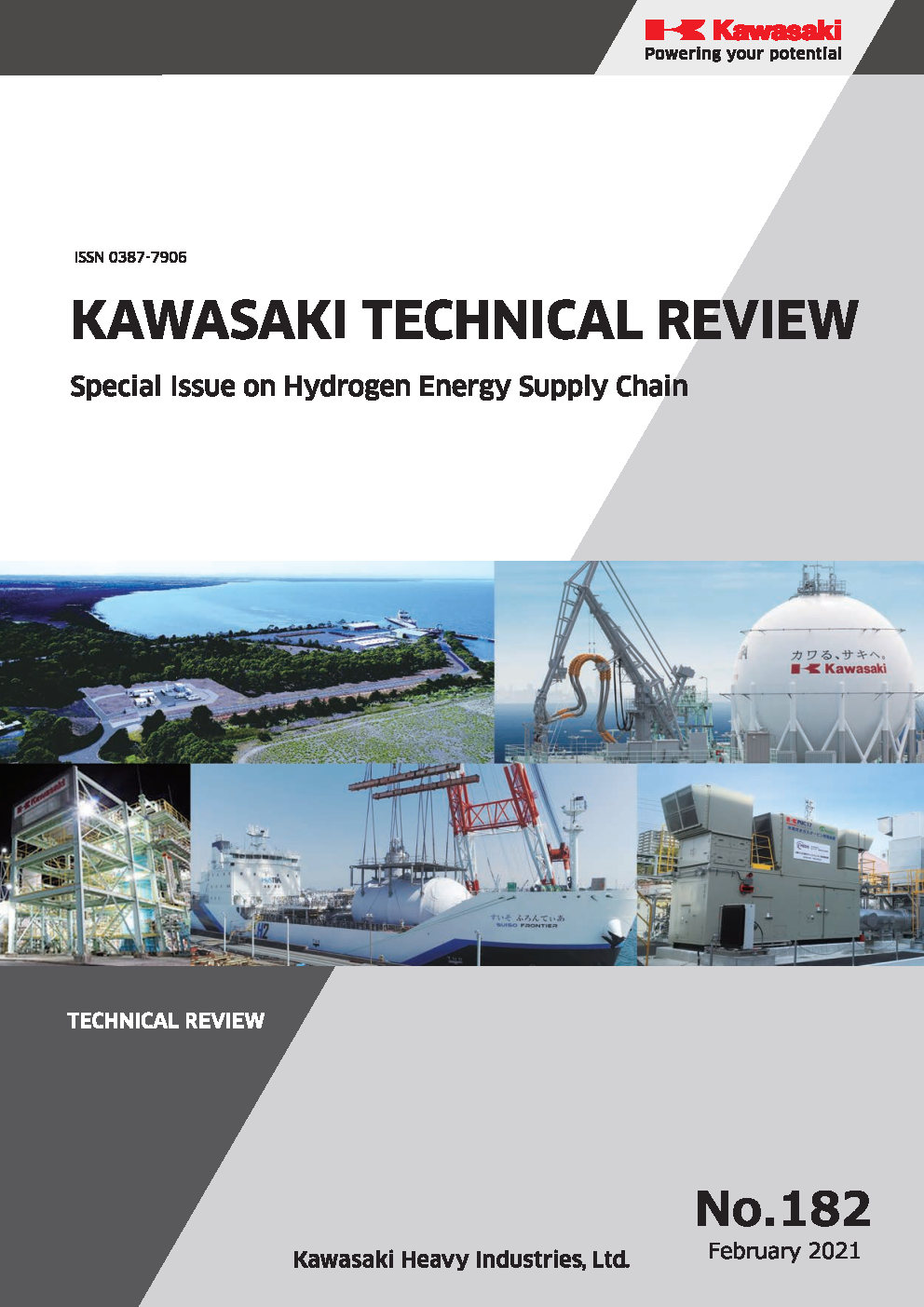 NEW! Gas Engine KG-18-T
Details
Kawasaki launched the the NEW Gas Engine KG-18-T with worlds highest electrical Efficiency...
(full data sheet is available at our download area)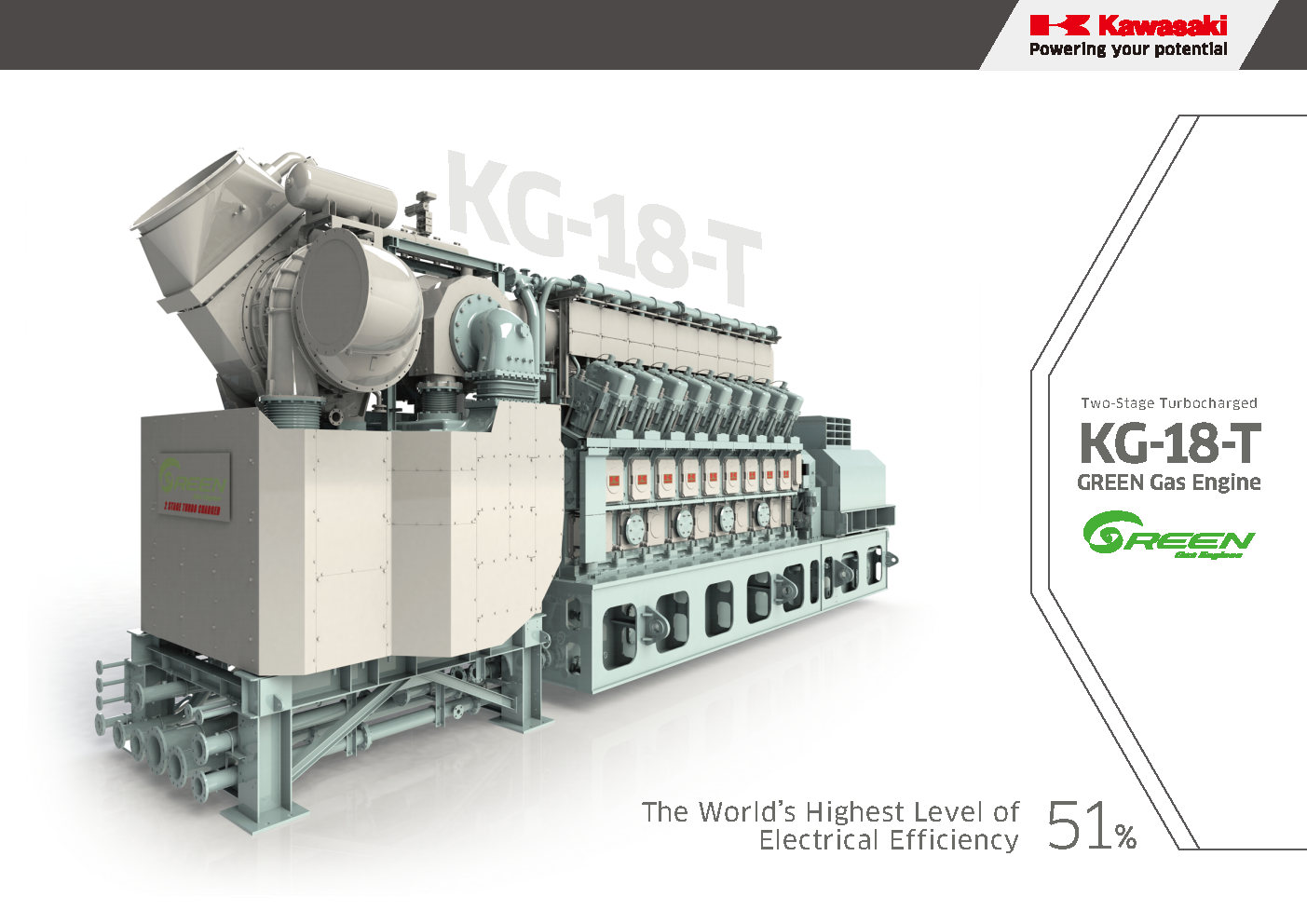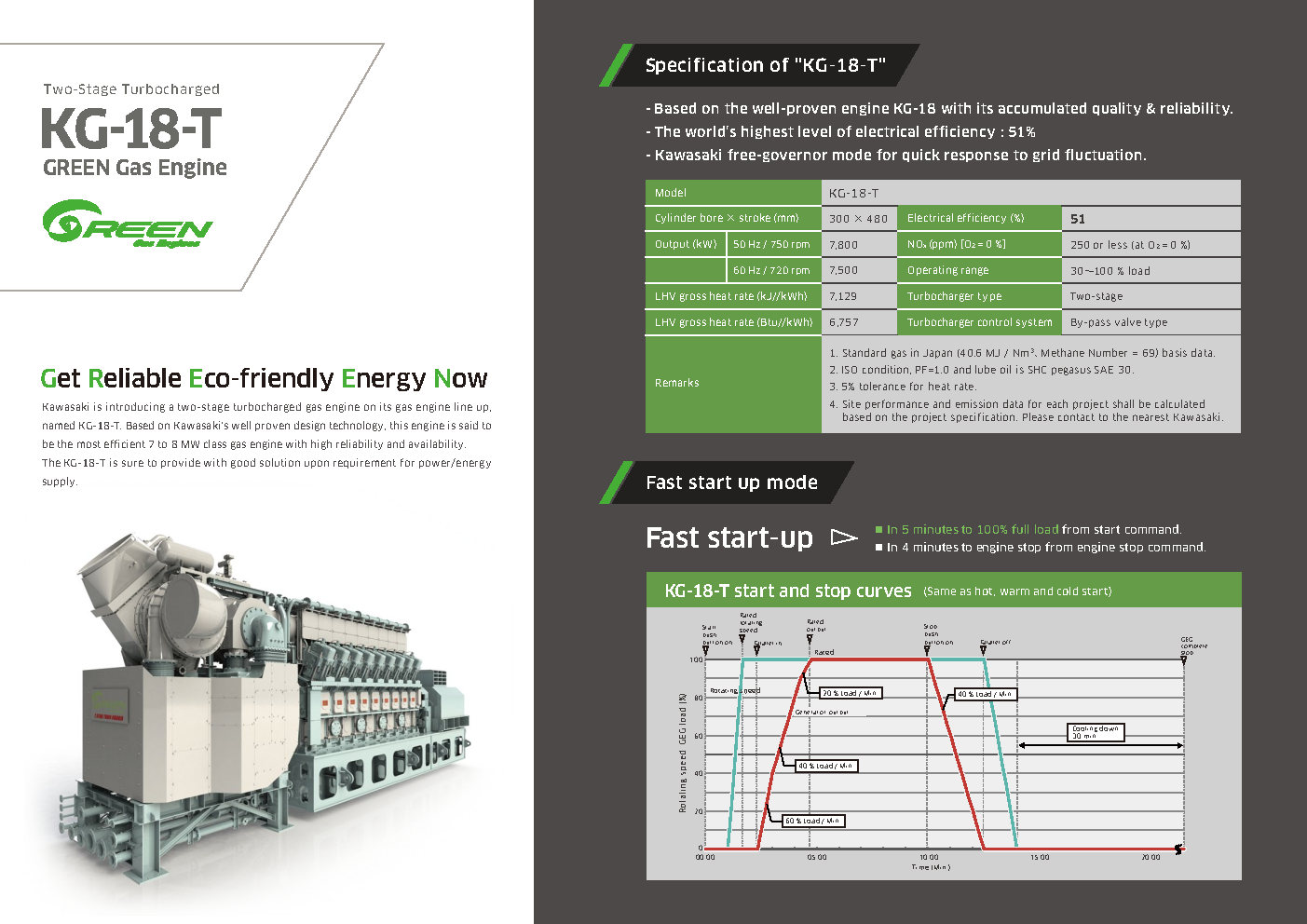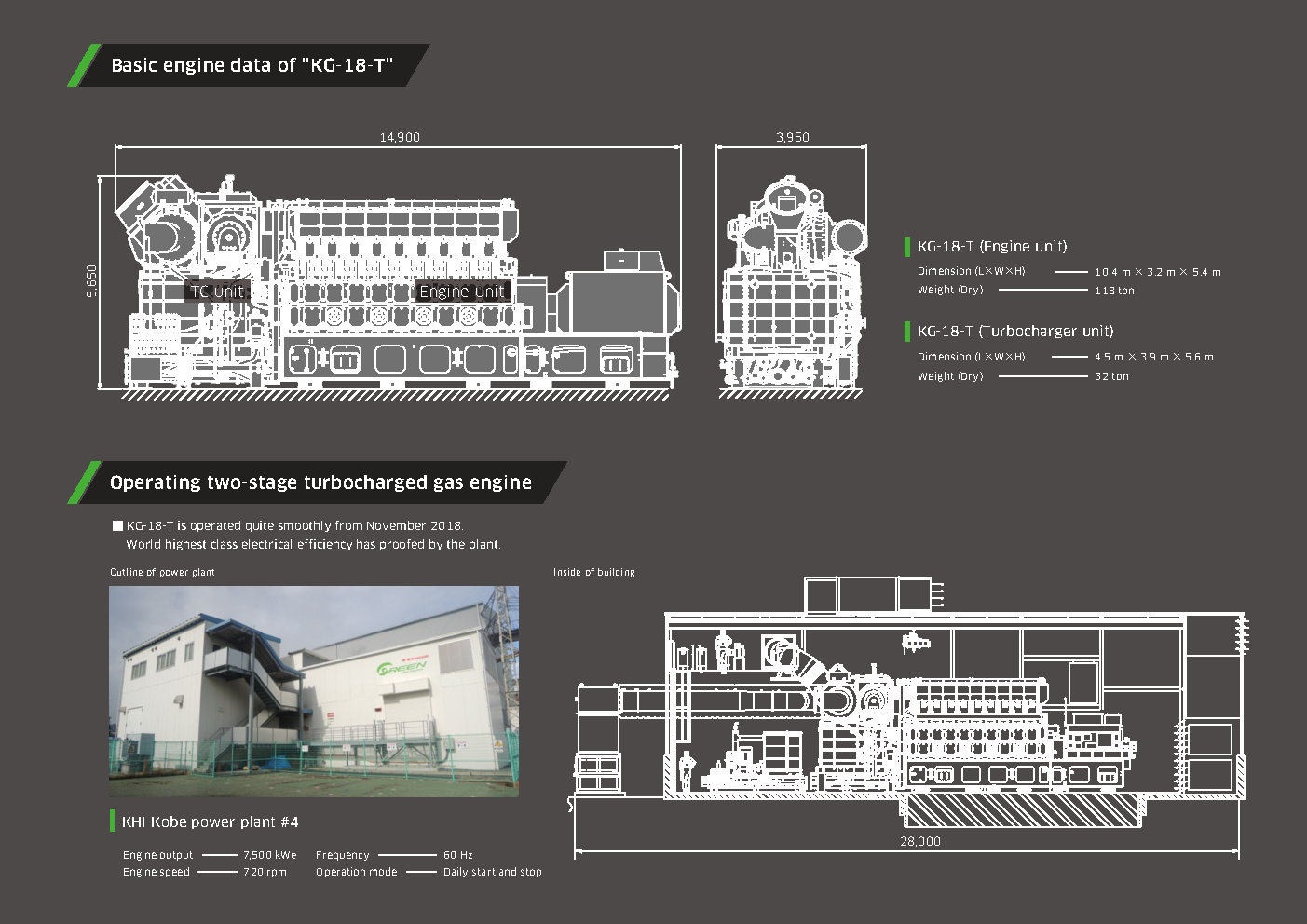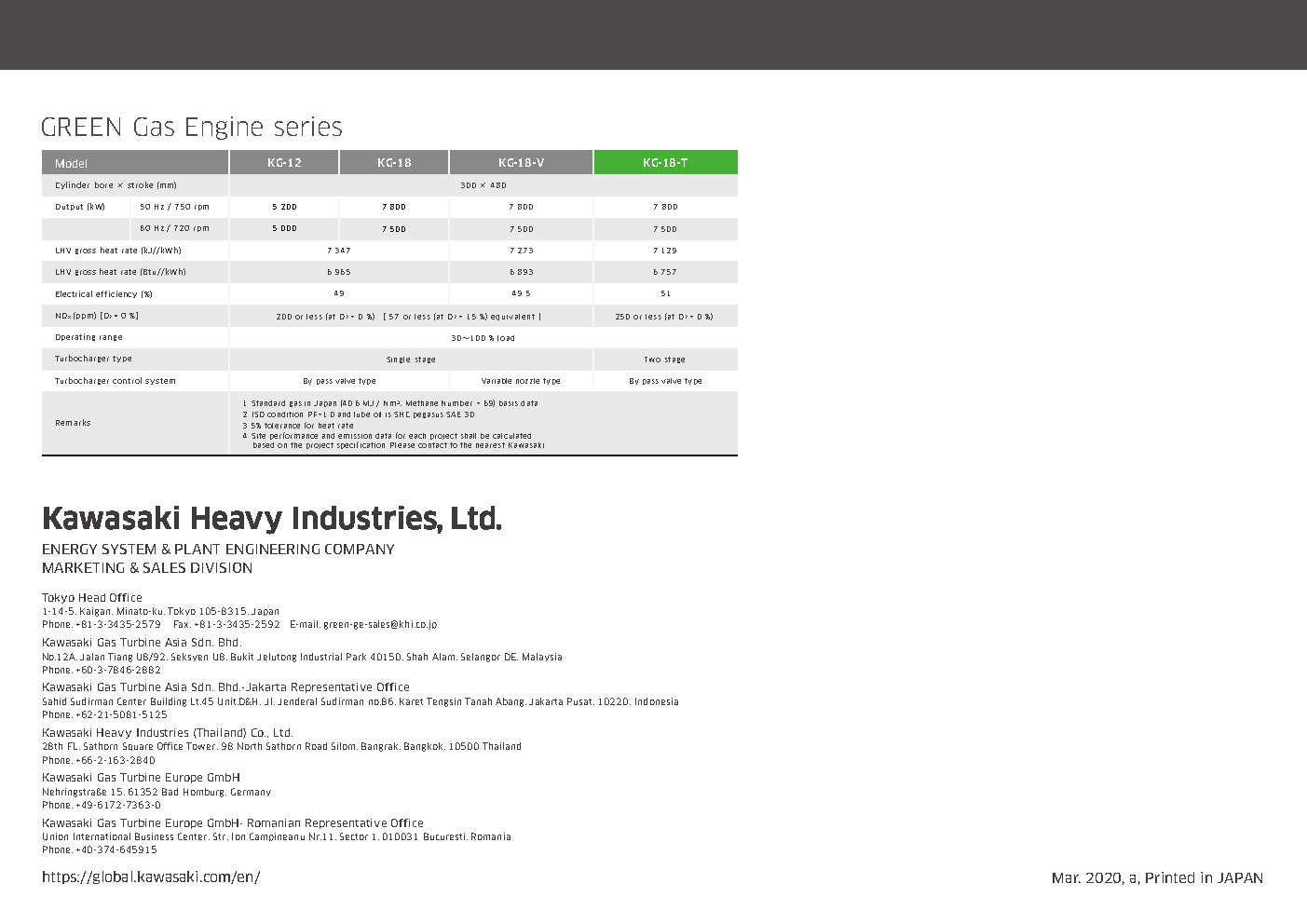 Kawasaki Hydrogen Road
Details
Kawasaki Vision for the Future
Today, our society is mostly dependent for energy on fossil fuels such as petroleum or natural gas.
This is causing the serious environmental problem of global warming and the risk of natural resource depletion. "Hydrogen Energy" offers a solution for securing a stable energy supply and the preservation of the global environment.
Hydrogen has been referred to as the "Ultimate Clean Energy." It can be used like petroleum as fuel to power automobiles, and like natural gas to generate electricity.
Besides, unlike fossil fuels, hydrogen does not emit carbon dioxide when combusted to produce energy.
We will be able to continue to drive cars and use electricity with hydrogen.
Our daily lives will not change. But thanks to hydrogen energy, our society can be changed dramatically.
Through hydrogen energy, Kawasaki hopes to bring a new future to the people of the world.
This initiative, which draws on the integrated capabilities of the whole Kawasaki Group, has already started.
If you want to know more about the Kawasaki Hydrogen Road please follow the link below:
Kawasaki meets Romanian Ministry of Foreign Affaires
Details
follow this link to the article and the official Facebook Site of the Ministerul Dezvoltării Regionale și Administrației Publice - Romania
Kawasaki Super Green Product Gas Turbine M5A
Details
The M5A-01D Gas Turbine achieves the world`s best electrical efficiency and environmental performance in the 5 MW class with lightweight, cpmpact design.
Please read here:
Product link to Kawasaki Heavy Industries Ltd.
Product link Kawasaki Gas Turbine Europe
Opening Romanian Office
Details
Recently we proudly held our opening ceremony for our official Romanian Office in Bucharest. The Romanian Office was opened with an official japanese Kampai ceremony in front of many guests.
This Office in Bucharest giving us the opportunity to act more powerful and efficient in the Romanian market and of course in the promising south eastern region of Europe as well.
Kawasaki Gas Turbine Europe GmbH
Romanian Office
Mr. Cristian Athanasovici
Union International Business Center
Str. Ion Campineanu Nr.11, Sector 1
010031 Bucuresti, Romania
Phone: +40(0)374 645915
Fax: +40(0)374 094901
E-mail: athanasovici@kge-gmbh.com

Gas Turbine L30 uprate !!!
Details
Gas Turbine L30 now available as uprate version: 34.3 MWe electrical power with 40.3% electrical efficiency !
World's First Heat and Electricity Supplied in an Urban Area Using 100% Hydrogen
Details
World's First Heat and Electricity Supplied in an Urban Area Using 100% Hydrogen. The NEDO project with KAWASAKI Heavy Industries in Kobe and the Obayashi Corp.
- Towards Establishing Optimal Energy Control Technology in Local Communities-
to read the article please click here:
How it works...
Details
high efficient CHP - how it works...
Hydrogen as fuel for Gas Turbines
Details
NEW scientific article regarding the enhanced fuel flexibilty of industrial Gas Turbines by development of innovative hydrogen combustion systems.
Please feel free to read the article here: files/Hydrogen_as_fuel_for_GT.pdf
or download the article in our download area!
Kawasaki Gas Turbine Europe 20 years Anniversary
Details
In this year`s summer
, Kawasaki Gas Turbine Europe GmbH celebrates it`s 20 years Anniversary!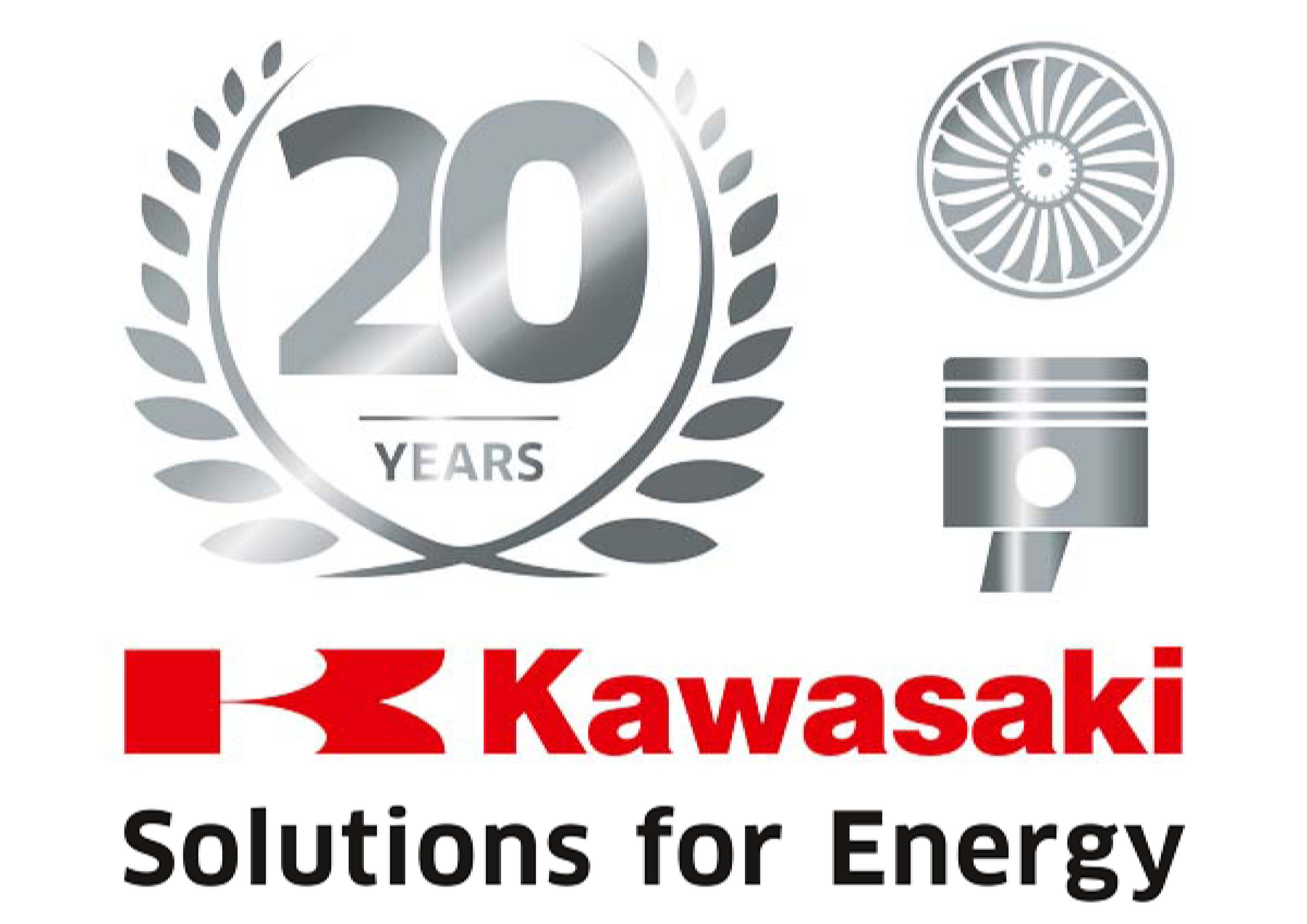 Impressions from the 20 Years Anniversary Party...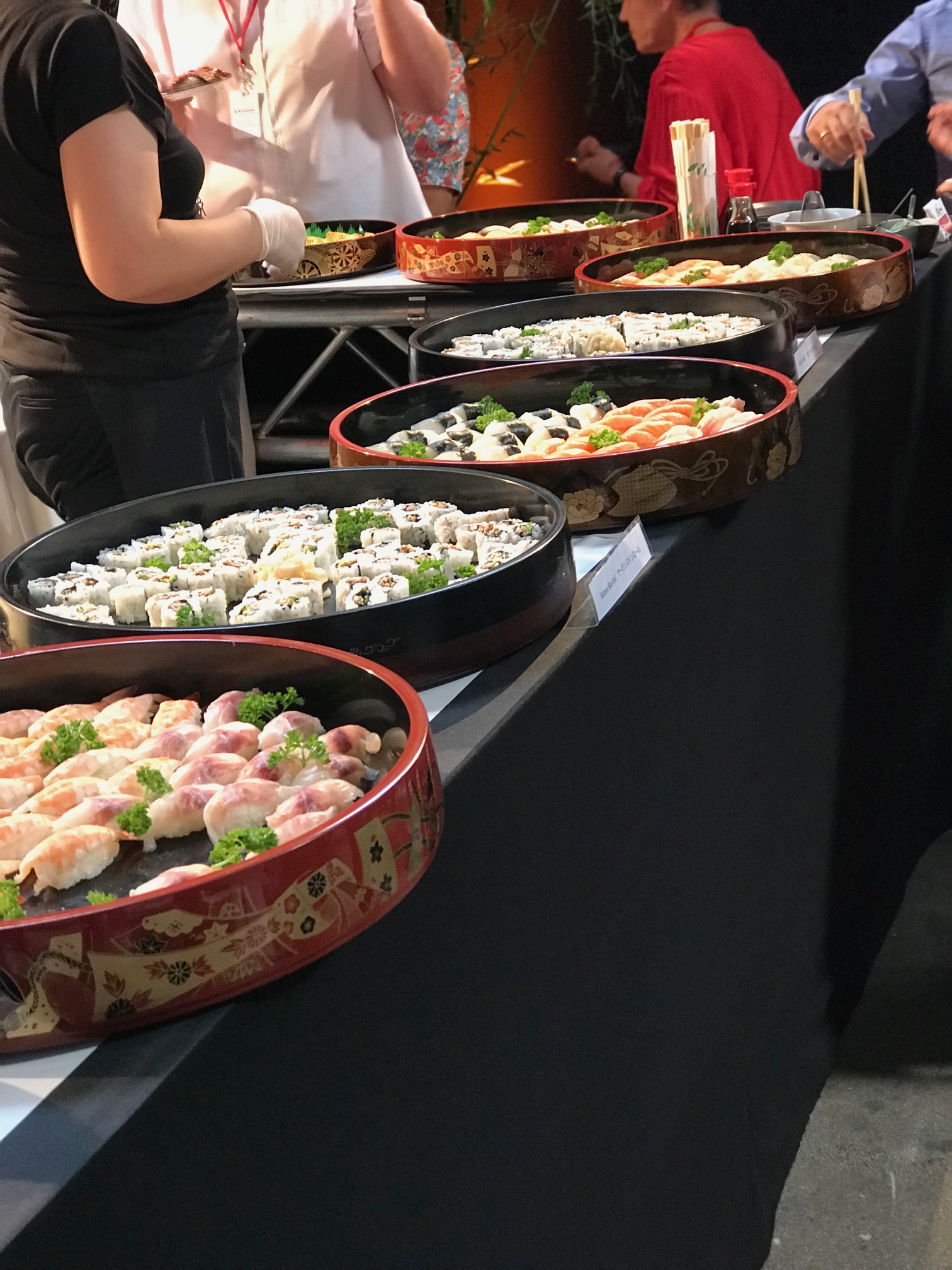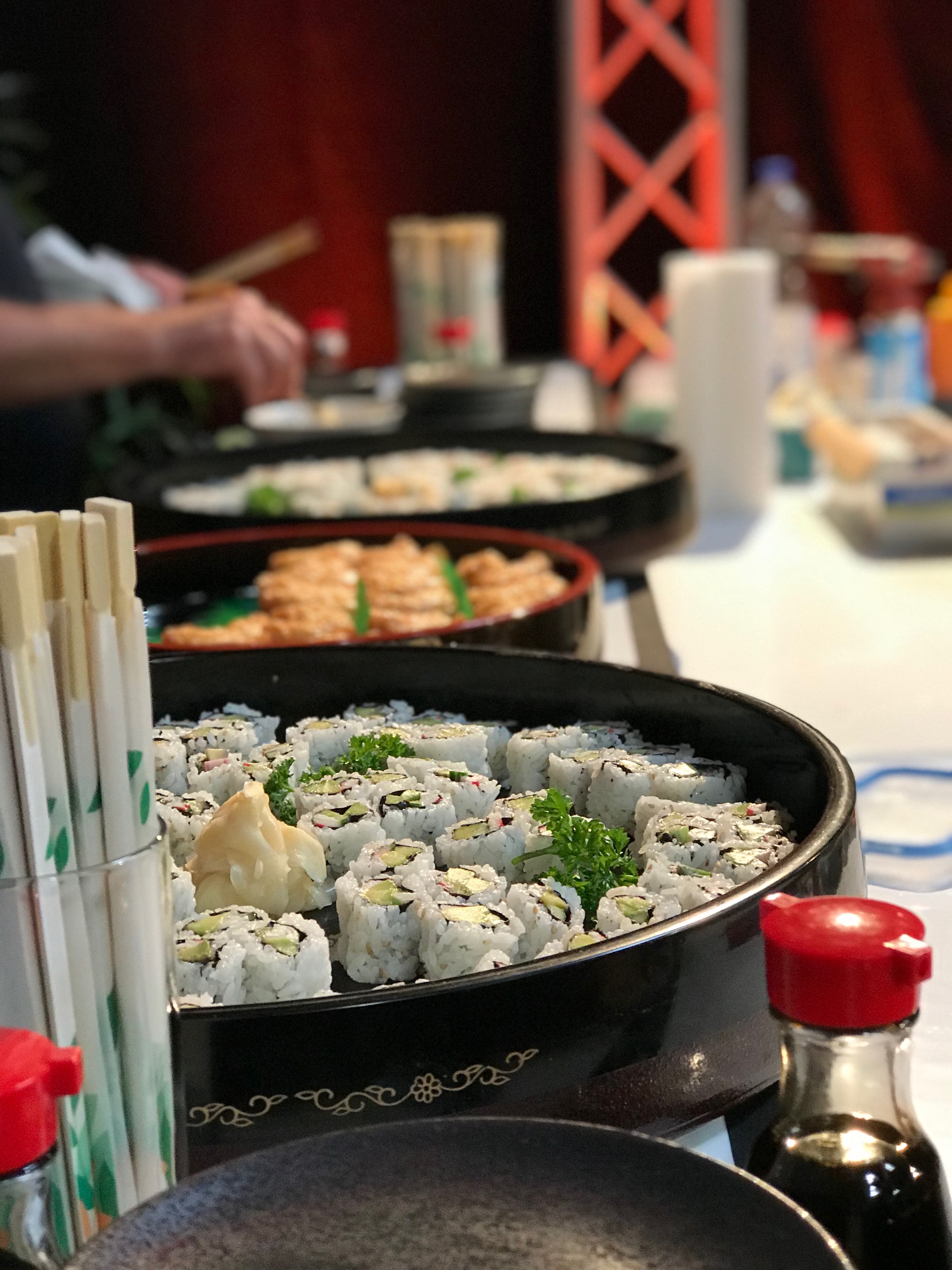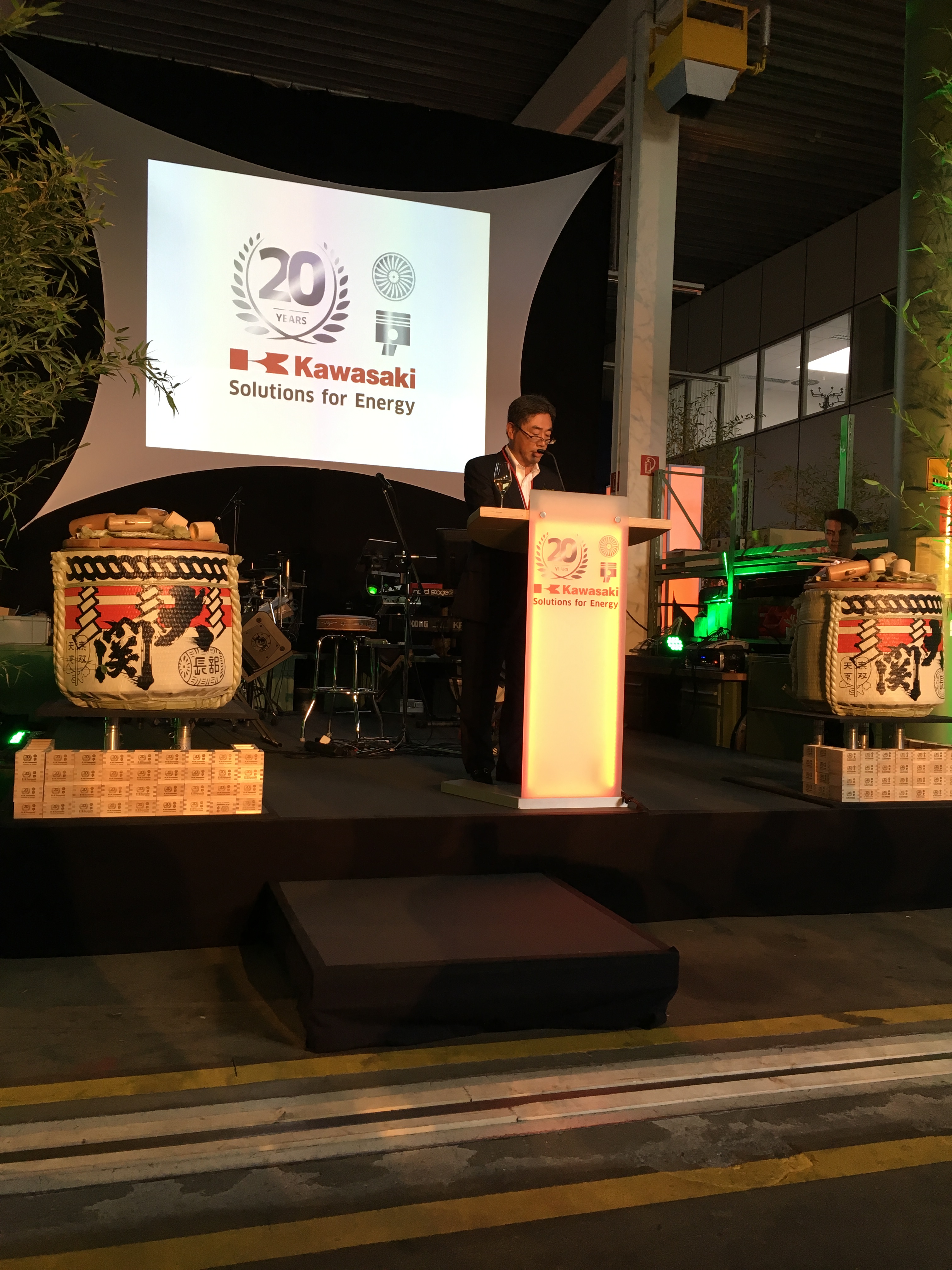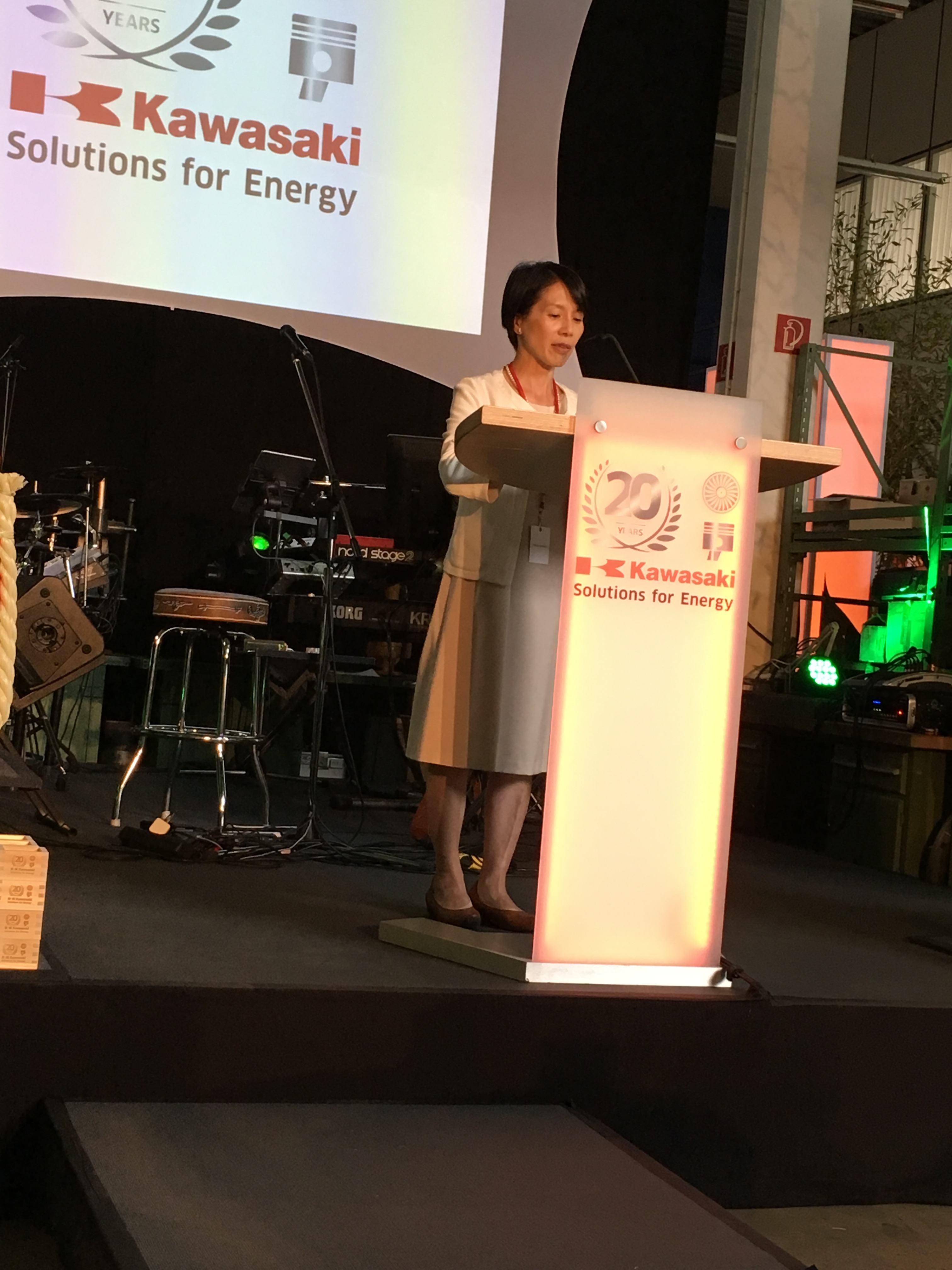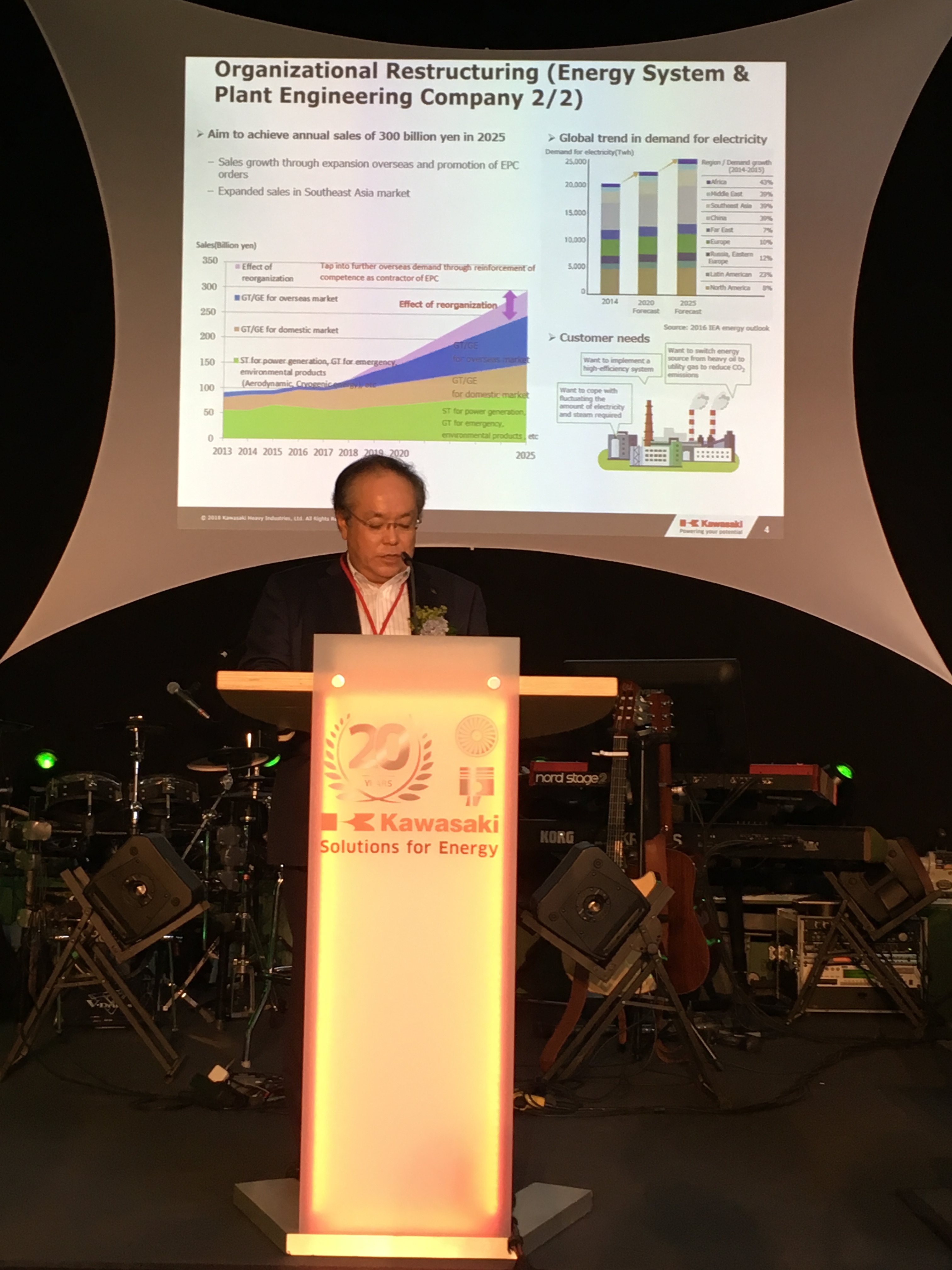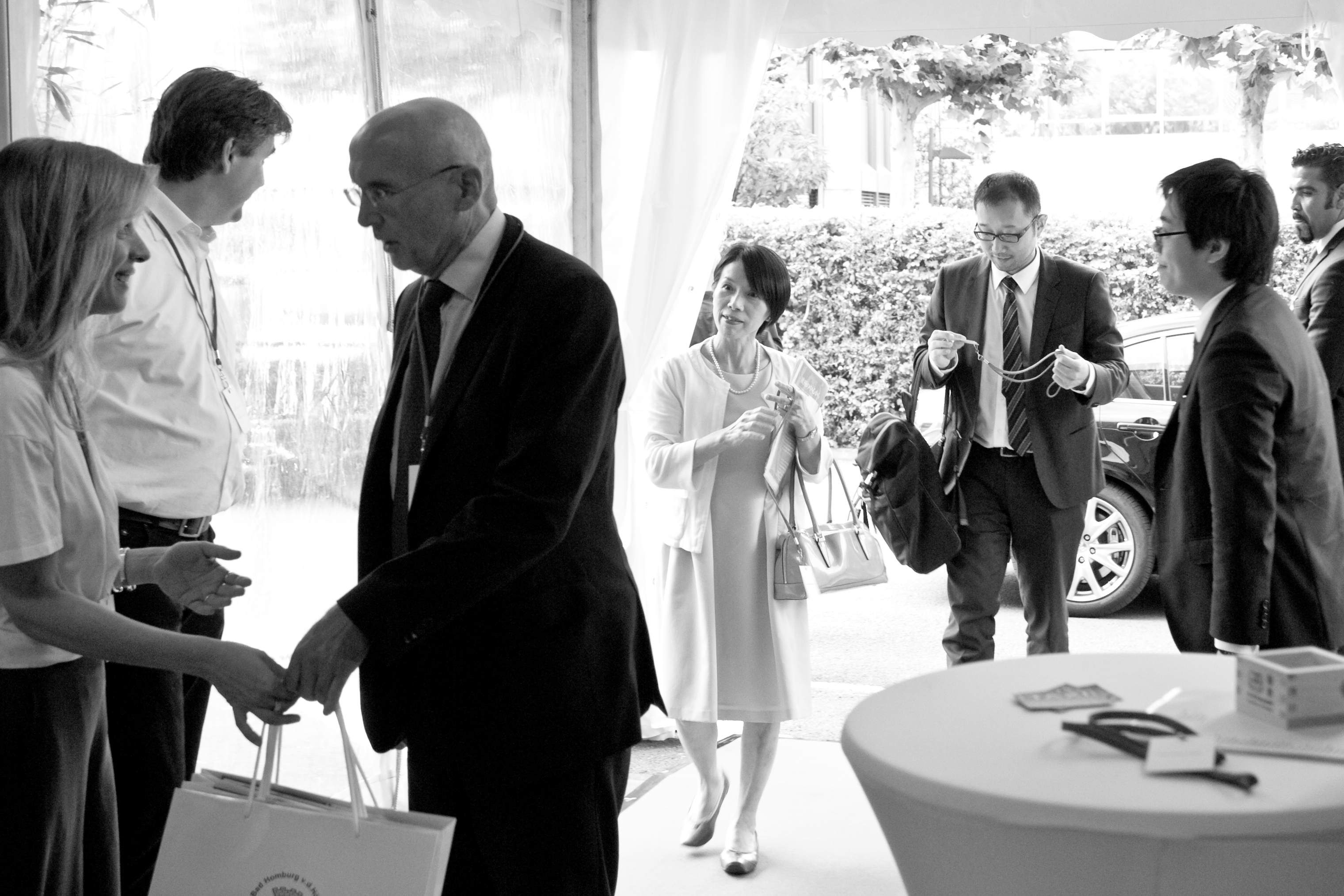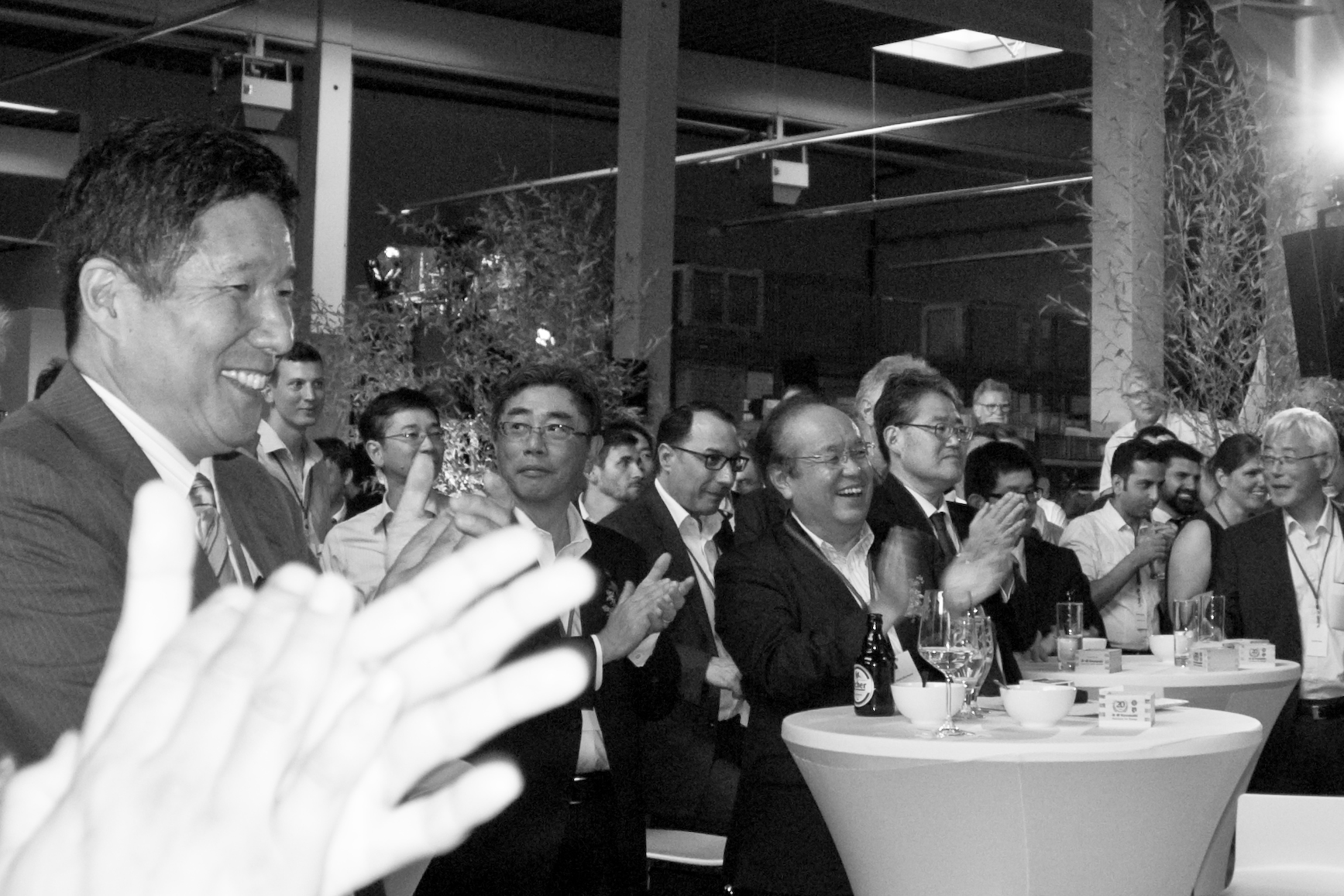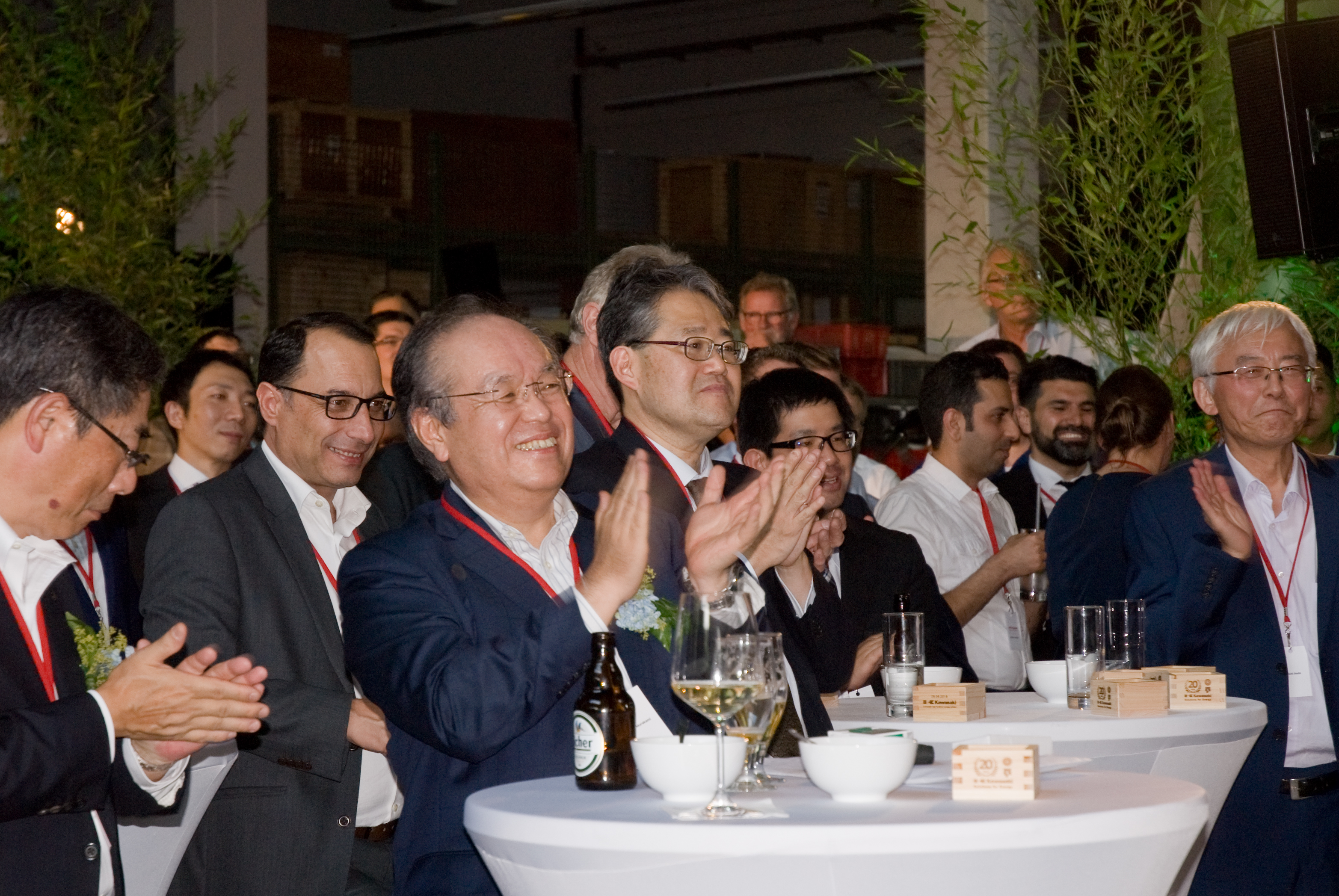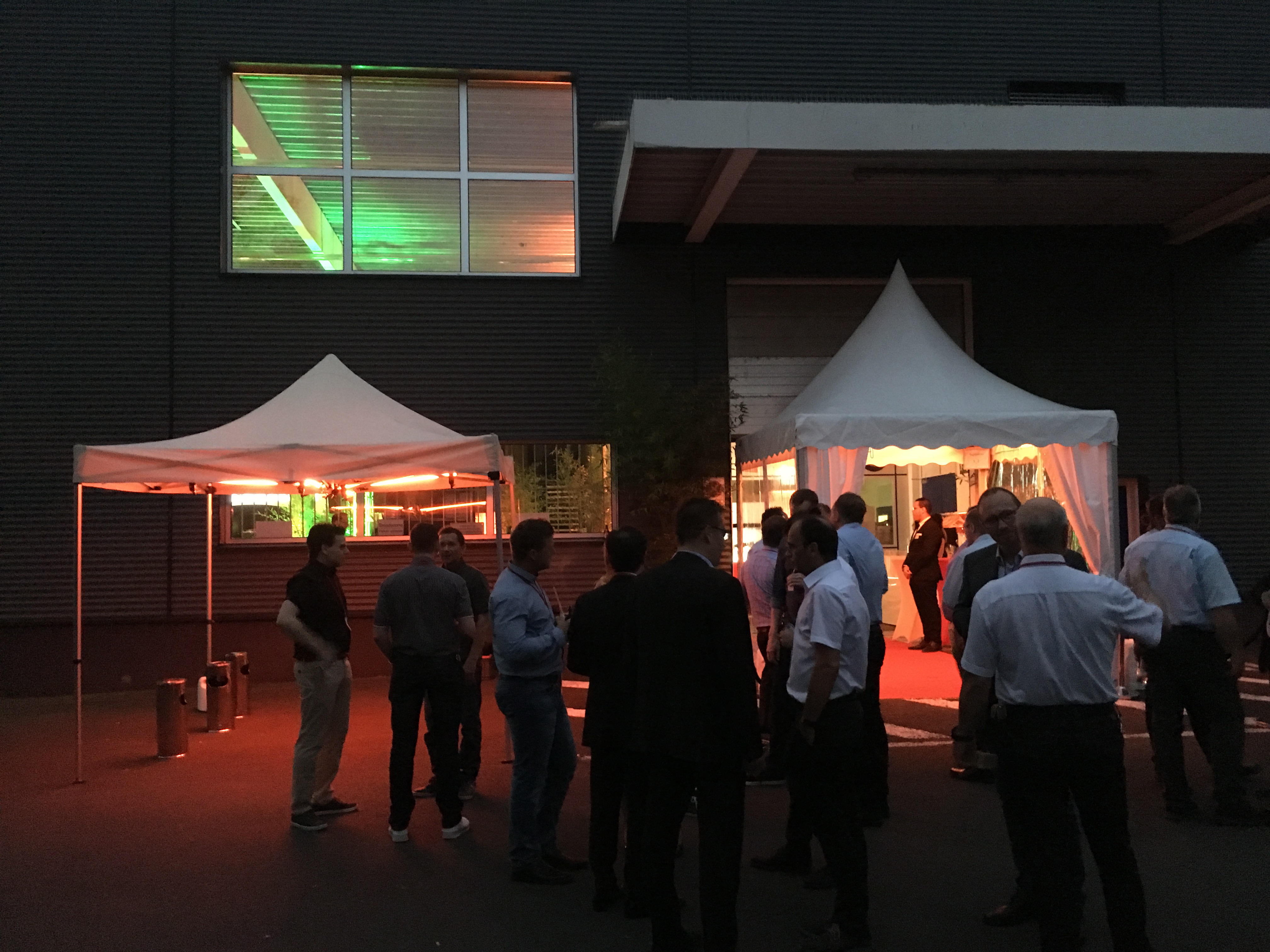 Diploma from MOLDEXPO
Details
Diploma for the participation at MOLDENERGY 2018 received from MOLDEXPO
"The Team" at 2017 Key Energy-Ecomondo Exhibition in Rimini /Italy
Details
KGE and Mercurio200 at Key Energy 2017 in Rimini/Italy
Details
KGE exhibits with its italian Partner Mercurio200 at Key Energy Exhibition in Rimini/Italy from November 7th - 10th
in Pavillon 5, Booth 154. Feel free to visit us!

Perspective on Hydrogen Combustion
Details
The KAWASAKI path to Hydrogen - perspective on Hydrogen combustion in Gas Turbines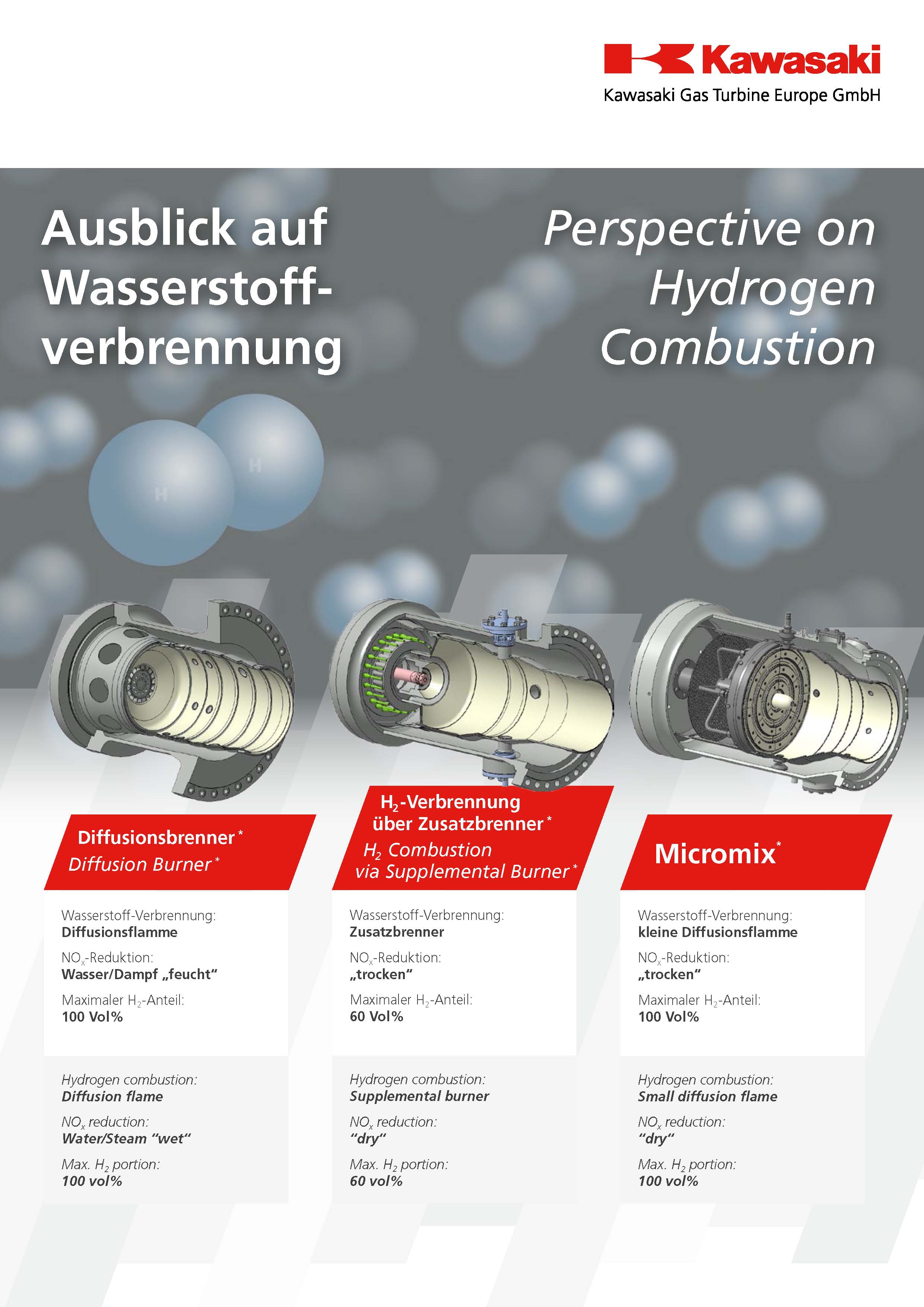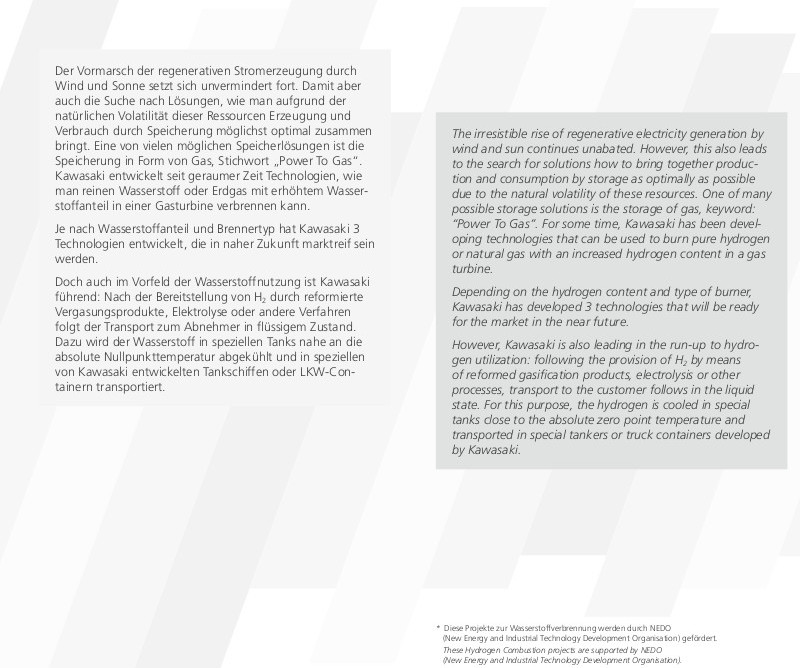 NEW: Gas Turbine GPB50D
Details
New and coming soon: Best and State of the Art in its class! Environmentally friendly due to lowest NOx emissions. Longer maintenance intervalls and best maintenance-friendlieness. Compact design.
Click here to read more: http://bit.ly/2v73m8v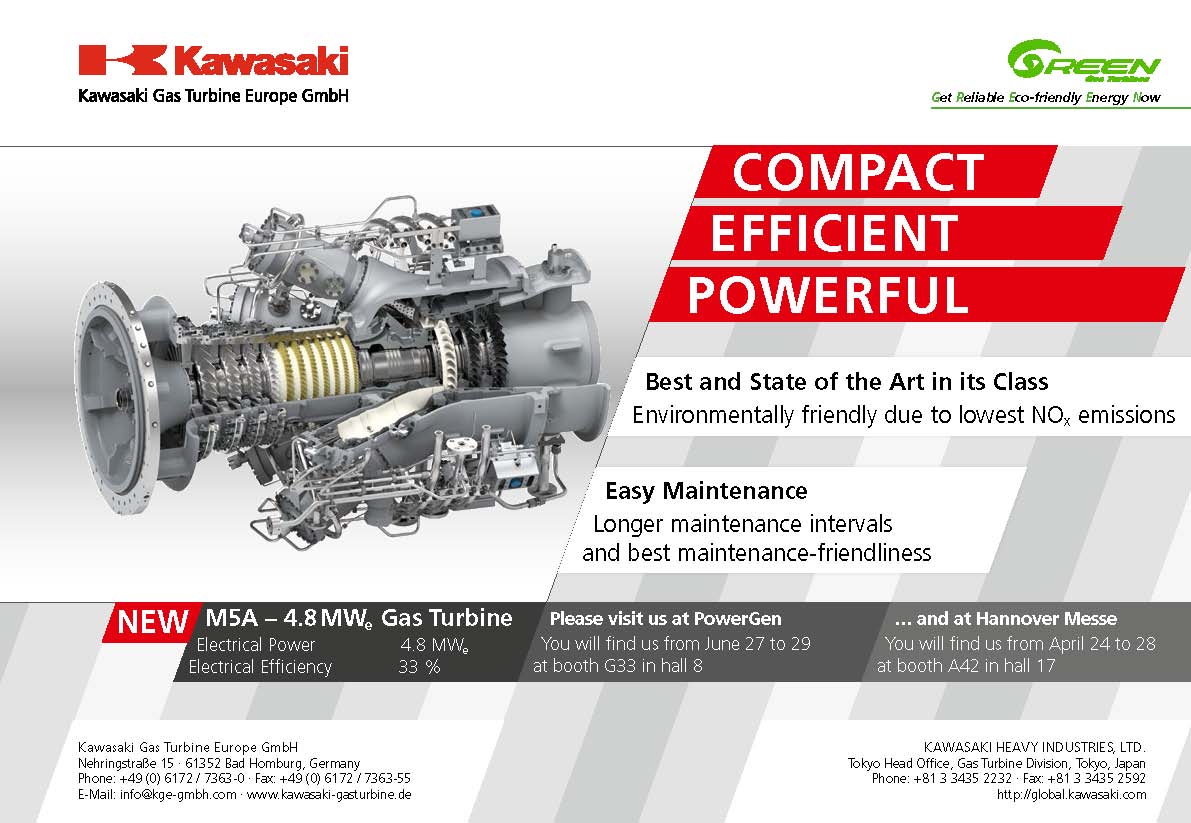 NEW: Gas Engines
Details
Discover the various fields of application of the NEW Kawasaki Gas Engines. Generating electricity, steam, hot and chilled water - all at an incomparable high efficiency, lowest NOx emissions and long maintenance intervals!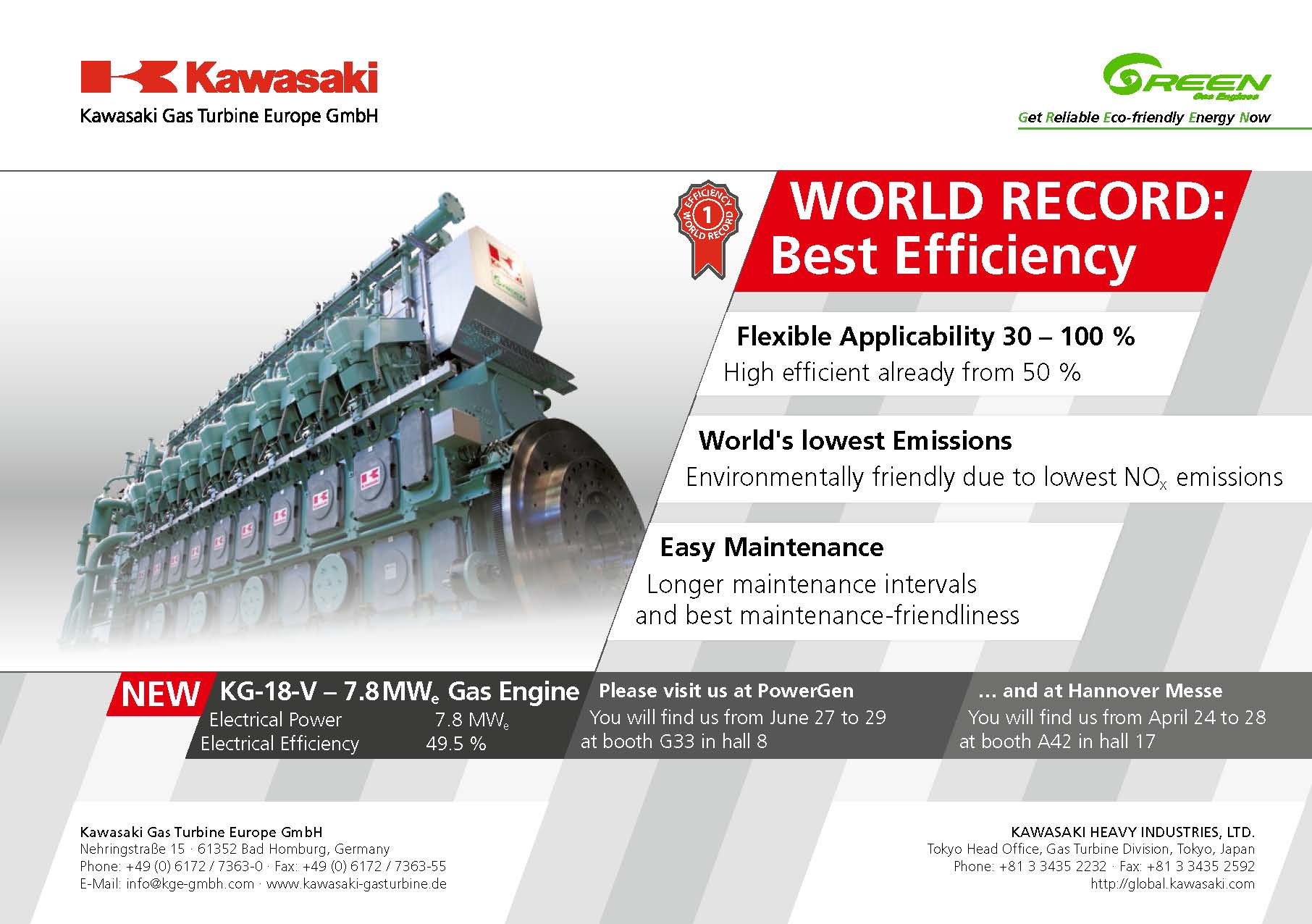 Hannover Fair 2017
Details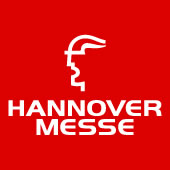 Kawasaki Gas Turbine Europe GmbH will participate within the Kawasaki Heavy Industries Ltd. Group stand at Hannover Messe 2017 from April 24th to 28th.
It is the first time that Kawasaki Heavy Industries Ltd. is presenting its European divisions Kawasaki Heavy Industries (UK) Ltd., Kawasaki Gas Turbine Europe GmbH, Kawasaki Robotics GmbH, Kawasaki Precision Machinery (UK) Ltd.-Hydraulic Systems & Components, Kawasaki Heavy Industries (Europe) B.V. and Kawasaki Motors Europe N.V. to the public under one umbrella on a more than 400 sqm big and impressive stand in Hall 17 at booth A42.
The "Beauty"
Details
The "Beauty" - Co-Generation plant model with KAWASAKI Gas Turbine GPB80D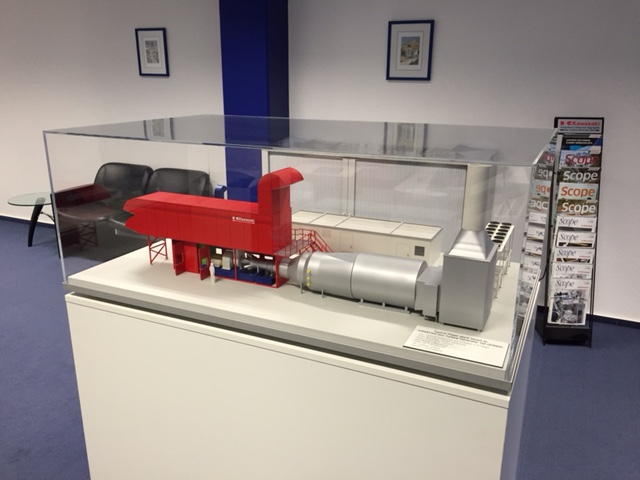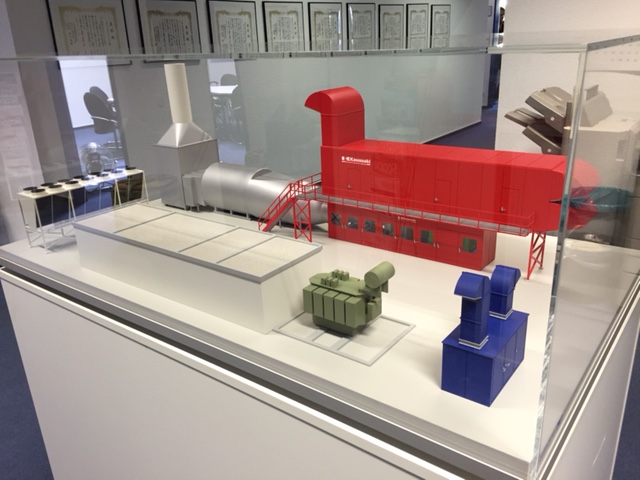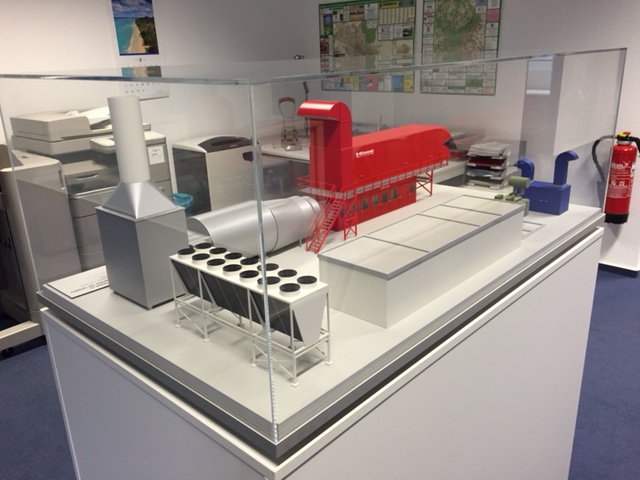 10 Kawasaki Green Products...
Details
10 KAWASAKI Green Products Registered Including 9 Products at the Top Level Of Industry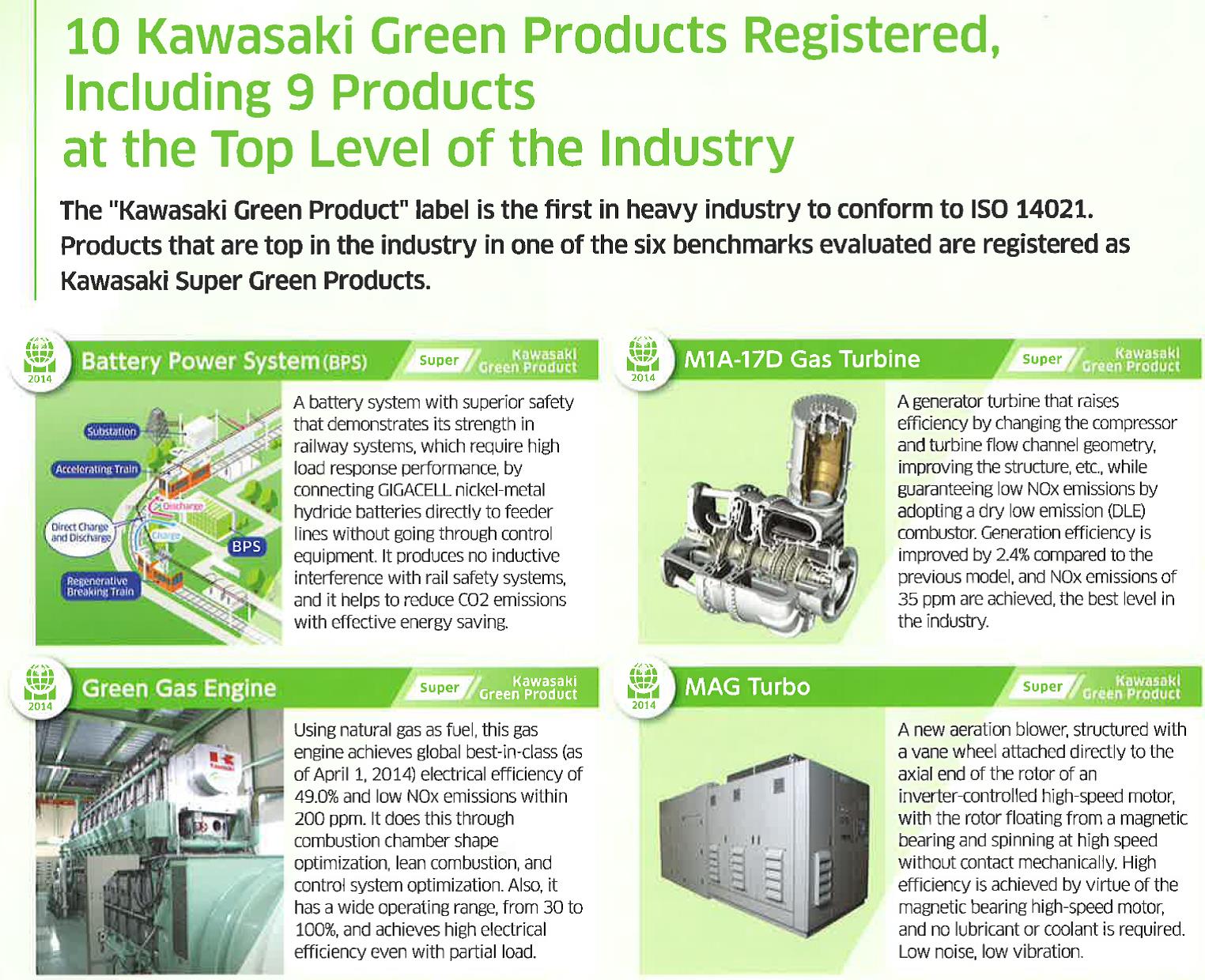 Origin: Kawasaki Heavy Industries Quarterley News, Scope No.101
Video Project K: Kawasaki Gas Turbine L30
Details
The story of Project K is the story of how Kawasaki and its customers are opening up new possibilities for people around the world by tackling some of the problems facing the world.
This movie describes the 30MW class world's most efficient gas turbine development with Daicel Corporation
Inside Kawasaki: Gas Turbine Division, Akashi / Seishin Works
Details
Kawasaki gas turbines apply the highly precise manufacturing technologies used in the jet engines of aircrafts. From design to manufacturing to after service, we perpetually use our own technological know-how to refine and evolve the outcome. Unrivaled technological prowess and the people who possess and improve upon it -- they are the foundation of Kawasaki's excellence in quality.
KAWASAKI Gas Turbine Europe at Power-Gen Europe
Details
KAWASAKI Gas Turbine Europe GmbH again at this year`s Power-Gen Europe in Cologne! 03.06.2014 - 05.06.2014 Hall 7 booth T34!!!

KAWASAKI Gas Turbine Europe GmbH: A look back at the year's 2013 successful events !
Details
Power range up to 5 MWe
currently in february 2014 a gas Turbine GPB17D isn in hot commissioning for the Municipality Stadtwerke Bernau. Further, shortly before turn 2013/14 KGE agreed and signed contract for one GPB17D with the company CP Kelco.
More GPB17D`s in 2014 to come...
Power range up to 10 MWe
In this Power range KGE can look at a much more succesful year 2013!
After long but fruitful negotiations finally a Gas Turbine GPB60PLUS with steam injection was sold to the company AWS Group as a pilot for the printing industry.
Following an installation of one GPB80D in 2013 for the food company Cargill Deutschland , one unit GPB80D for the Energy pro vider Vattenfall in Berlin and 2 more units GPB80D with, last but not least, an option of a third GPB80D for the health care company Fresenius Medical Care in St.Wendel!
We would say - pretty succesful performance in 2013 by KGE.
[Video] Bringing-In one of two GPB80D for Kronos Titan
Details
Bringing-In one of two KAWASAKI Gas Turbine Generator Sets GPB80D for the company Kronos Titan in Nordenham.
[Video] Bringing-In of one GPB80D for BASF
Details
Bringing-In of one KAWASAKI Gas Turbine Generator Set GPB80D for the company BASF in Lampertheim / Germany.
[Video] Bringing-In of one GPB80D for Sasol Wax GmbH
Details
Bringing-In of one KAWASAKI Gas Turbine GPB80D for the company Sasol Wax GmbH in Hamburg / Germany
[Video] Bringing-In of one GPB60D
Details
Bringing-In of one KAWASAKI Gas Turbine GPB60D for the romanian company PREFAB in Calarasi / Romania.
We wish all customers and partners a successful year 2013 !
Details
KAWASAKI Gas Turbine Europe GmbH: A look back at the year's 2012 successful events !
Power range up to 5 MWe
After successful commissioning of the first european Gas Turbine Generator Set GPB17 for Industrielle Werke Basel in March 2012, a further additional successful commissioning for one GPB17D for the company Wernsing Feinkost GmbH in July 2012 took place. In the same company a second GPB17D will be commissioned soon. As well as a further commissioning of a GPB17D for the company J.Rettenmaier & Söhne will happen soon.
As a matter of fact that the Gas Turbine Generator Set GPB17D is a very strong product in its Power range 2 further contracts for GPB17D shown by the companies Nickelhütte Aue and Stadtwerke Bernau – both projects currently in execution.
Power range up to 10 MWe
As well as in the Power range up to 10 MWe KAWASAKI Gas Turbine Europe GmbH can look back successfully to 2012!
After contract signature and successfully commissioning of one Gas Turbine Generator Set GPB60D recently in Romania for the company PREFAB, there will be another commissioning for one Gas Turbine Generator Set GPB80D for the municipal utilities of Bacau.
Further KAWASAKI Gas Turbine Europe GmbH is proud to get domestic contracts in 2012 for the successful Gas Turbine Generator Set GPB80D from the companies Sasol Wax GmbH, KRONOS Titan 2xGPB80D and BASF 1xGPB80D incl. Heat Recovery Steam Generator, Gas Compressor and balance of plant.
30 MWe Gas Turbine Generator Set will be introduced world wide in 2013!
Details
Kawasaki Heavy Industries (KHI) has announced that it had completed the development of a 30MW gas turbine - Kawasaki L30A as one of World's highest efficiency model in this class, and has launched in the market worldwide in June 2012 at Power Gen Europe in Cologne/Germany.
Combining Kawasaki's long-cultivated expertise in developing small and medium size industrial gas turbines, delivered over 10,000 units, and its highly sophisticated elemental technology in the area of aircraft engines, the L30A offers the following features:
1) A world-leading generating efficiency of more than 40%, achieved through such improvements as a higher compressor pressure ratio, newly-developed heat resisting materials, and enhanced turbine cooling technologies.
2) A proprietary Dry Low Emission (DLE) combustion system for keeping NOx emissions below 15 ppm (O2=15%)—the lowest emission level in the world.
3) A structure offering excellent maintainability, based on the latest technologies and know-how cultivated through the development of KHI's current and previous models. By adopting the optimal maintenance cycle proposed by Kawasaki, life cycle costs can be significantly reduced.
In the market worldwide, the issue of energy security became highly evident and the need for the on-site power generation has been increasing, also, such considerably potential demand is highly expected because of an ever-increasing power demand, increasingly stringent environmental protection regulations. The L30A is able to provide a flexible solution for such demands as an ideal gas turbine combined with a waste-heat recovery boiler in a cogeneration and combined heat and power (CHP) plant with steam turbine.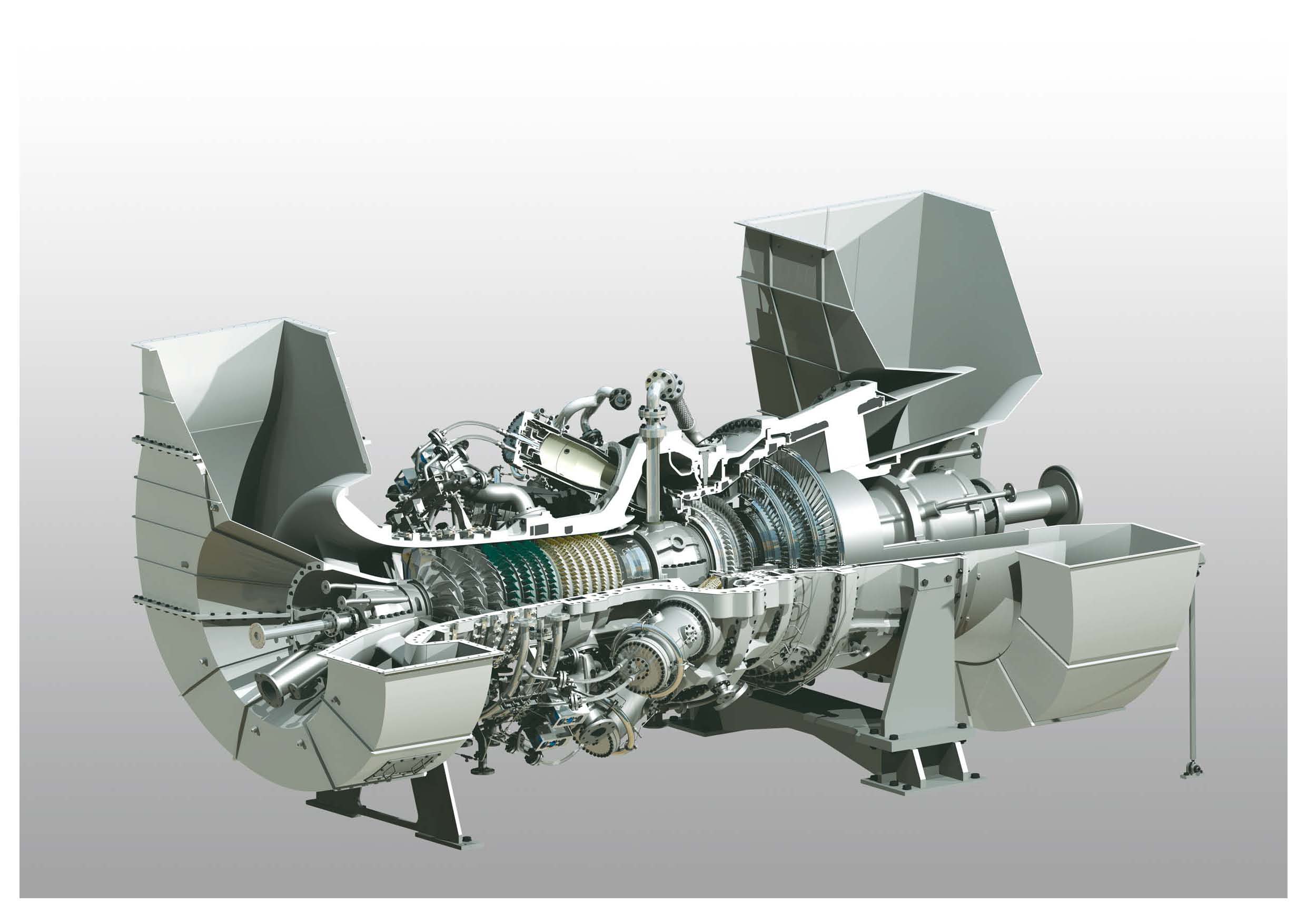 Installation of a Gas Turbine Generator Set GPB06 at campus of technical University Dresden
Details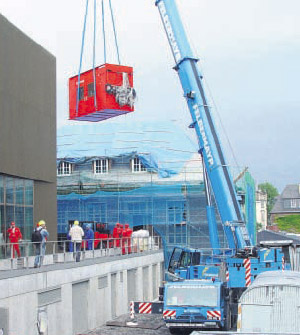 Foto: UI/Eckold
Mit neuer Turbine innovativ Gas geben
Eine lang ersehnte Lieferung erreichte am 18. August den Neubau des Zentrums für Energietechnik der TUD: die neue 600-KW-Gasturbine. Das 12,5 t schwere Aggregat von Kawasaki wurde pünktlich ab 8 Uhr vom Tieflader in seinen künftigen Standort gehoben. Die Turbine ist Kern eines innovativen Kraftwerksprozesses, der im Zentrum demonstriert und untersucht werden soll. Es handelt sich dabei um einen integrierten Gas-Dampf-Prozess mit Wasserrückgewinnung. Die Anlage wird eine wichtige Rolle für studentische Praktika übernehmen und dient auch internen Versorgungsaufgaben im Campus. Sie kostet 1,2 Millionen Euro, die zu gleichen Teilen durch die Deutsche Forschungsgemeinschaft und den Freistaat Sachsen aufgebracht werden.
Reference: "Dresdner Universitätsjournal 21.Jahrgang Nr.14 vom 21.09.2010"12. – 14. Juni 2012
GPB80D "uprate" version will be introduced in May 2012!
Details