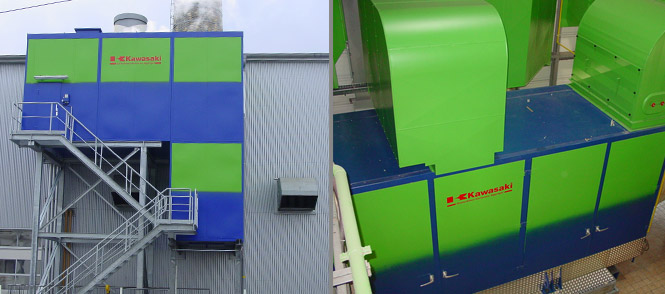 Turbine

GPB60D

Power5.4 MWe
KAWASAKI Gas Turbine Europe (KGE) resident in Bad Homburg close to Frankfurt / Main, Germany shows an excellent start in Rheinland-Pfalz.
After a one year Sales development period KGE has been awarded to replace existing ALSTOM Gas Turbine with its Gas Turbine Generator Set GPB60D. The old installation has been operated for over 10 years and needs to be overhauled and retrofitted by updated parts and technology.
The customer former known as Technische Werke Kaiserslautern has used this opportunity by issuing a tender for above works. Starting with this procedure SWK published its decision and signed new order with KAWASAKI after detailed technical and commercial evaluation supported by an Engineering Consultancy. As SWK stated KAWASAKI shows an enormous reputation of its service attitudes. The Kawasaki Gas Turbine Service Center is very close to Kaiserslautern.